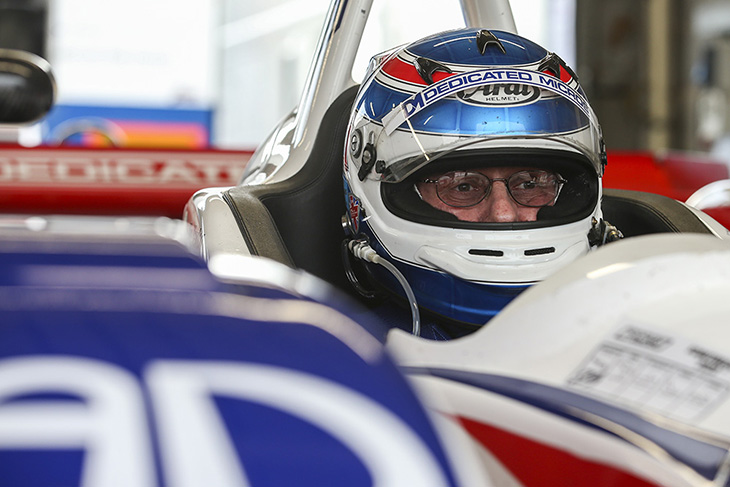 2001 saw something of an early 20th century icon make its racing debut – the MG Lola EX257 was the pocket rocket ca that was designed to truly exploit the ACOs new LMP675 regulations, taking the fight to the big LMP900s with lower cost, lower power but lighter weight.
Two decades on the car still has a very contemporary look, and the ex-factory car we were watching on track in the Masters Historic test Day at Donington Park is still in the hands of the owner that bought it from factory MG service, Mike Newton began his LMP adventures in this very car (chassis HU #002), which had raced twice at Le Mans for the factory MG squad.
Newton debuted the car at the 2003 Le Mans 1000km, still in LMP675, and the car carried on in frontline service with the RML AD Group squad, by now in LMP1, through the inaugural Le Mans Endurance Series in 2004 before being replaced as the team's weapon of choice for 2005 by the Lola B05/40-based MG Lola EX264 LMP2.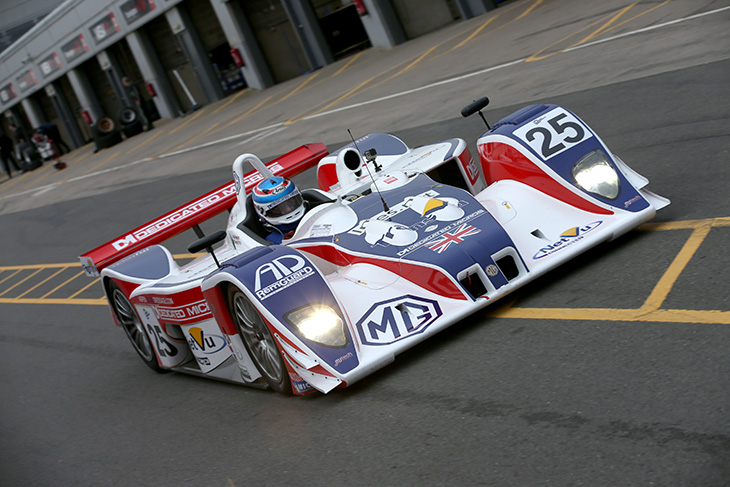 The EX257 though stayed in Newton's hands and, rather more recently, was overhauled and brought back into service as the car became eligible for the new breed of post historic racing.
Not only is the car still in the ownership of Mike Newton, but it's also still in the caring and very capable hands of its original Chief Technician at RML, Mike 'Jakey' Jakeman though now owns and operates his own MJ Tech operation. which has looked after the MG Lola for several years now.
Also along at Donington and in keeping with the "getting the band back together" theme, assisting Mike on the engineering and data front was another very familiar face from the RML AD Group racing days – then Team Manager Phil Barker.
I caught up with Mike between track sessions where the MG Lola, despite being a decade and a half older than the LMP2 class BR01s also on track still looks distinctly modern a car that, despite its relative lack of contemporary on-track success, is still one of the writers favourite 'lookers of the modern LMP era.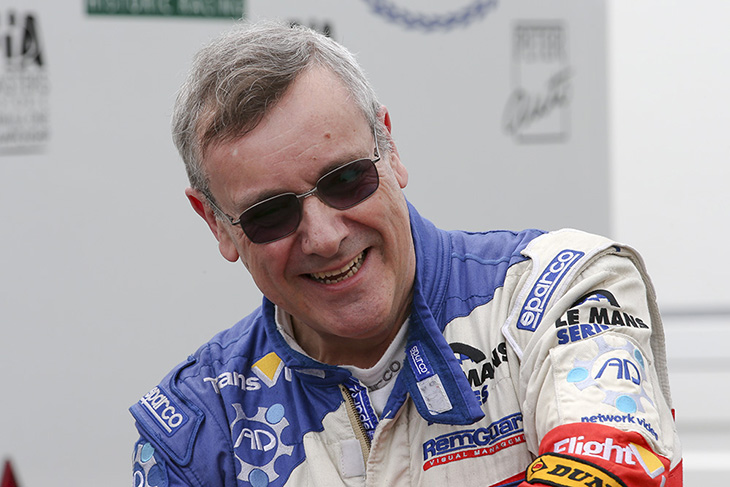 You are still out there in a car, you clearly still love, doing the things that you still love doing and I guess the first question is why still with this car, why not contemporary racing anymore?
"I feel that to do that in LMP racing it has to be something that you can give the time to get on top of or to be doing it in something that you are familiar with.
"I'm not a fan of national racing with the things that tend to come with that on various sides and even when we're racing in the UK, we race under FIA regulations so that's certainly a big appeal that this is happening under that regime.
"Also an appeal is that we race in this Series over on the continent where get the chance to visit and revisit the great circuits like Spa, Imola, Monza.
"Monza in particular, it's wonderful to go back there in a car that you've driven there before when you were younger and in a car that performs so well there."
You've been with this series now more or less from the start?
"We missed the inaugural Spa 'trial' race in September 2017. We started at Imola in 2018 I think and whilst, for a variety of reasons, we haven't done every race we've been a fairly continuous presence. Putting COVID aside. Is this going to grow?
"It was growing quite well 2019/ 2020 before the pandemic, and it was also quite healthy in 2018. The Covid interruption in 2020 was a big step back but for the obvious reasons.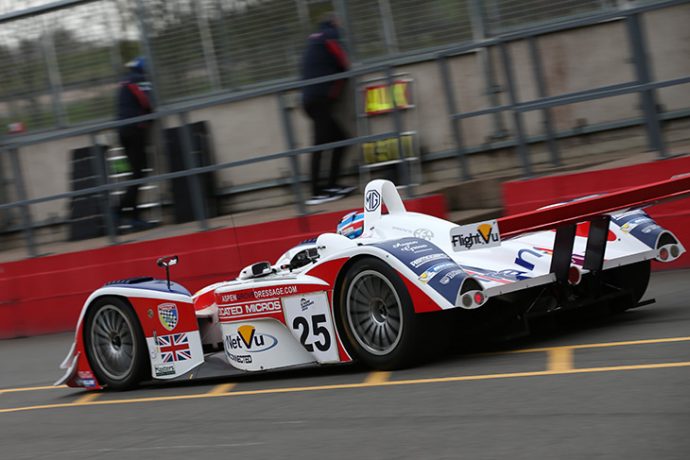 "They are obviously expanding it to newer cars, and I think that will have all sorts of interesting dynamics, because we're already seeing the fact that my car's carrying probably half the downforce of a later car. But of course, it's getting it back in drag. At Monza, it was just awesome! I was watching some of the (contemporary ELMS) LMP2 and LMP3 guys looking over the pit wall and they were loving it!
"In 2019, and to a certain extent in 2020, we were frankly limping with a tired engine that we were nursing all the way through. In fact, we were panicking a little that we were going to hit a big problem last year and that it was going to expire before we got to slot to rebuild it.
"It's now freshly rebuilt around a fresh block because the old block was basically shot, it had been machined down that many times there wasn't enough left!
"So this is a secondhand new block. In fact, one of my original blocks from previously so it is actually one of the series original blocks in there. And it's definitely delivering a bit more beans today!"
You're still doing it properly out here with a proper team running the car and Phil Barker (the original Team manager at RML back in the day) is here too – that's a lot of guys for a test?
"If you're going to do it, do it right – I've tried various things where I sort of had a little bit of a dabble with it and just came away from the weekend a bit pissed off with myself for not doing it properly.
"I've never really been interested in doing things just to take part and make up the numbers. Even if you're not winning or whatever, as long as you feel that you've done as well as you should do with the equipment and you're not making excuses just because you didn't do it right.
"That's what it's all about. You've got to come away thinking. Yeah, we gave it our best shot."
Are there more conversations now with guys in what is, in part at least, your social orbit, about this sort of racing rather than contemporary racing? Are there more people you think that are kind of looking in this direction with cars that they may still have?
"I think in contemporary racing, there's not a class now that isn't a sort of ladder to go to full Pro racing, and that was a great thing about LMES in its initial, sort of 2003/ 2004 incarnation that It was a Pro-Am mix and the Pro wasn't an up and coming driver but perhaps more of a mid-life driver.
"I don't think there's a championship that gives you that now. So historic racing is giving you that. Especially now we've got carbon cars here. Would you get me to push in an aluminium tubbed Group C car? No!
I've had enough big accidents in carbon fibre cars to know how hard they can go in! I certainly don't want to experience that with some coke can around me!
Which of your cars do you still have?
"In the workshop at the moment is the EX264 (pictured below) which was the 2005 class winning car in Jake's workshop at the moment. We've still got the Coupe too which, at the moment is still in EX265C Lola MG format.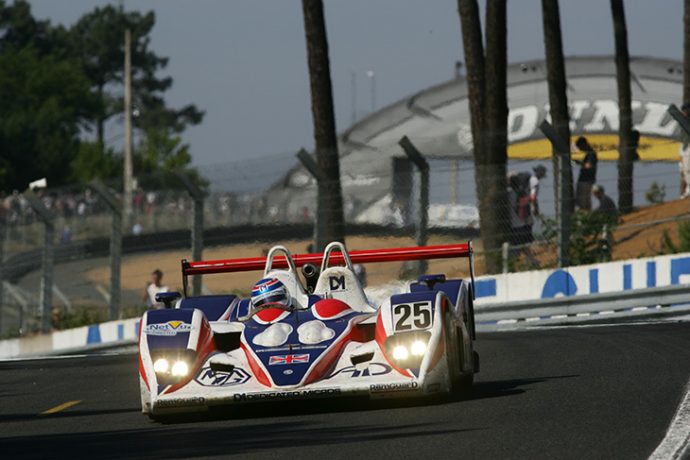 "We've also got the two WFR Embassy LMP2 chassis as well with a Judd to put in at least one of them. Whether or not I race that I don't know yet, but it will be something to look at later, perhaps for a single event as a comparison!"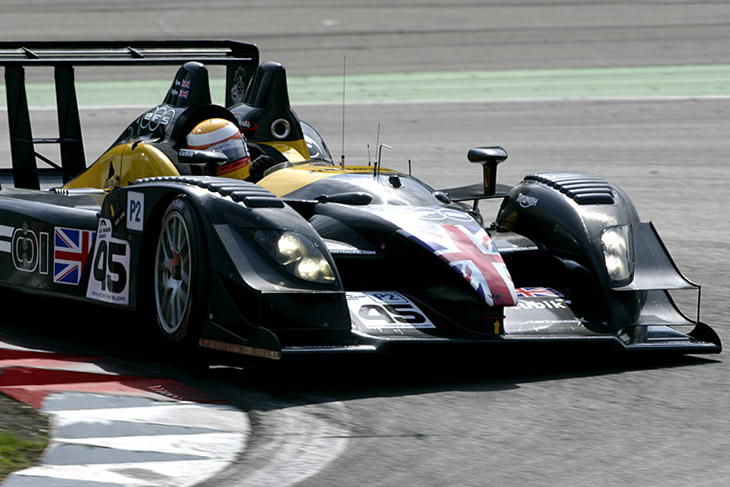 I guess one important question is your attitude to the fact we've got very much more recent cars now involved in historic racing?
"Ask me at the end of today!
"I mean, we were delighted, and everyone else was horrified when 2008/9/10 was classified as historic. Even something as relatively old as this car, my EX257 is a 2001 chassis, there have been some that think that's a bit modern for historic racing.
"2016 could be argued to be getting awfully close to being current, but having said that, America has always had a very vibrant scene by making things historic the day after they stopped running so let's wait and see. Let's wait and see what happens.
"I think partly it will be down to how they manage the classes and how they present it.
"Having said all of that, it will be interesting to see how times will compare because obviously, we've been progressively trying to slow cars down ever since 2001 and especially in an environment where you've got gentlemen drivers that aren't necessarily going to use all of the available downforce, an older car with less downforce to use but less drag so it goes quicker. You can potentially balance things up on that.
"When we ran at the Nurburgring the year before last I was running with Keith Freiser (in his Oreca 03-R Nissan LMP2) and Nurburgring really should have been a place where he had the benefit because there's a lot of twists around there to use the downforce.
"Keith is no slouch. He's a very capable driver, a lot quicker than other people in similar machinery. But the straight line benefits I had meant that frankly, I was having to hang on for grim death just trying to stay close behind to use that to my advantage on the straights.
"And as I learned the second time I got close to him and ended up in the kitty litter I needed to remember the fact that the one little bit of downforce I've got disappears when I'm too close behind him!"
What do you fancy doing with the car?
"Well, as well as in the Masters Endurance Legends series there's the Patrick Peter-run Series for which this car and the EX264 are eligible. We've actually done the maths and certainly, around Le Mans, this would be the quicker car than the 264. Because it's the straights. The time that you lose through downforce in other places, you pick up on the long straights at Le Mans."
What is the peak speed for this car now?
"There's no reason why it won't go as quickly in the straight line as it did back in the day which was around 305 km/h. If we go to Le Mans again I'll let you know!"
First published on dailysportscar.com.
Mike Newton, Racing The MG Lola EX 257, Almost Two Decades On